Although the Macedonian nation is still very traditional in some aspects of life (weddings, baptising, celebrations, family life etc.), a more modern way of living can be detected in every aspect of social life.
Official working time is from 8am until 4pm from Monday to Friday. Usually the weekend is free, but many private companies also work on Saturday. Employees are entitled to annual leave of between 20 and 26 working days per year with up to seven days paid leave for marriage, death of close family members, professional examinations and other employer requirements.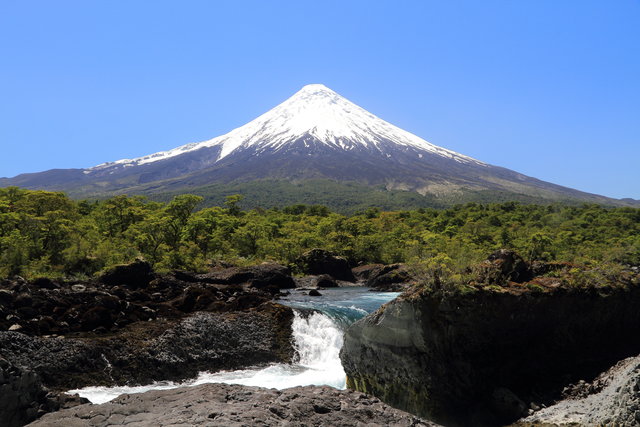 Volcan Osorno (S. Rossi) / CC BY 3.0
FYROM people spend a lot of their free time together with their friends in coffee bars and restaurants. Families tend to be small and spend a lot of time together and help each other with every-day activities. It is not unusual for children to live with their parents until marriage and to be supported by them until then. There are also families where three generations live together, but this is becoming increasingly less common in urban areas. Family members all help one another with children and work.
Men are still considered to be the heads of the household and are expected only to work. Women are expected to juggle a full time work schedule with doing the housework, taking care of the children, making meals, etc.
For further information, please see below:
National holidays
| | |
| --- | --- |
| Holidays | Date |
| New Year | January 1, 2 |
| Christmas Day (Orthodox) | January 7 |
| GoodFriday (Orthodox) | March / April |
| EasterSunday (Orthodox) | March / April |
| EasterMonday (Orthodox) | March / April |
| Labour Day | May 1 |
| Saints Cyril and Methodius Day | May 24 |
| Day oft he Republic – Ilinden | August 2 |
| Independence Day | September 8 |
| Revolution Day | October 11 |
| Day of the Macedonian Revolutionary Struggle | October 23 |
| Saint Clement of Ohrid Day | December 8 |
Working hours
Most of the restaurants and bars work every day of the week, even during  holidays. The shops are open from 8:00am to 8:00pm. There are extended working hours in tourist areas, Ohrid and Struga, during the season.
Institutions and offices:
Monday to Friday 8:30 am – 16:30 pm
Saturday 9:00 am to 5:00 pm
Banks:
Monday to Friday 8:00 am to 7:00 pm
Saturday 8:00 am to 12:00 am
Work culture
The FYROM offers a highly qualified, educated and ethical workforce. The average gross monthly salary is 430€. The country has a 40-hour working week with a 30 minute rest period during daily working hours plus sick leave benefits. In accordance with EU standards, flexible employment contracts and flexibility of working time are available in the FYROM.
With the aim of stimulating foreign and domestic investments, the FYROM has implemented a very attractive flat rate tax of 10% on corporate income tax and personal income tax.
Health insurance
Public healthcare in the FYROM covers unlimited visits for preventative care, examinations and treatments. All citizens are entitled by law to equal access to health care. Employers take responsibility for registering their employees in the Health Insurance Fund and both employer and employee must contribute to the fund. Employees are required to contribute 0.5% of their gross salary for insurance against work related illnesses or diseases. Most of the medical services covered by the public healthcare system are free of charge.
Private healthcare is also available. Private hospitals and clinics are managed by independent doctors and specialists.
FYROM citizens can register with any general practitioner of their choice. However, if you are seeking private healthcare for yourself, you must make sure that the chosen doctor has a contract with the Health Insurance Fund. In normal circumstances, patients need a referral from their doctor in order to visit a specialist or a hospital. In an emergency no referral is required.
Hospitals and clinics are available in all major towns.
For further information please visit: